This post was created in collaboration with IDentity Lingerie, who provided some garments for review in February 2019, but all views and opinions expressed are my own.
Postpartum Body Confidence
So this post isn't an easy one to write. Since having Baby M I have taken great comfort in wearing my big Bridget Jones pants. Yup. The girl who lived in the teeniest underwear, now wearing the biggest underwear known to human kind. Why? The high waist and comfiness that supports you feels like an ever lasting hug just after giving birth, holding tight all of the jiggly bits and anyone who's had a baby knows that wearing a thong can be slightly uncomfortable to say the least.
Intervention
Around November last year my girlfriends held an intervention (Thanks Jenni & Lydia!) and told me I needed to ditch the jones' and get some nice underwear! Reluctantly, I plucked up some courage and did some shopping and bought some new underwear. I never anticipated how much your clothing style and taste would change once you had a baby. I'm currently going through a massive wardrobe overhaul but things I felt so comfortable in and loved just don't sit right anymore but buying some new pretty underwear made a massive difference to how I felt.
I'm super lucky that I managed to end up pretty much back to my pre pregnancy size quite soon after but stretch marks have left me feeling somewhat bothered by my stomach area. At the start they were typical angry purple lines that cover my lower abdomen from left to right. For the first few months after giving birth I would turn my head and not look in a mirror after getting out of the shower/bath so I didn't have to face them.
They are now slowly fading and I'm am 100% completely aware and proud that I grew a human life inside me but it's still a big change to get your head around. A journey I'm still going on but I'm a lot more confident than I was 12 months ago and in 12 months time I'm sure I'll be even more confident but for now making sure I choose the right clothes and underwear is helping with that small everyday surge of positivity about my body.
IDentity Lingerie
I was kindly contacted by IDentity Lingerie to receive a couple of items from them, I had never heard of them but as soon as I saw their products I fell in love and definitely wanted to expand my small collection of postpartum underwear.
The website is full of gorgeous luxury handmade garments just look at some of these beauties!
I chose to receive the Navy Longline Strappy Back Lace which is currently 60% off at £17.50 instead of £43.80 and the Strappy String which is now 70% off at £6.20 instead of £20.80.
The other product I chose was the Red Silky Satin Short Dressing Gown with Lace which is currently a bargain at 70% off at £22.70 instead of £75.60.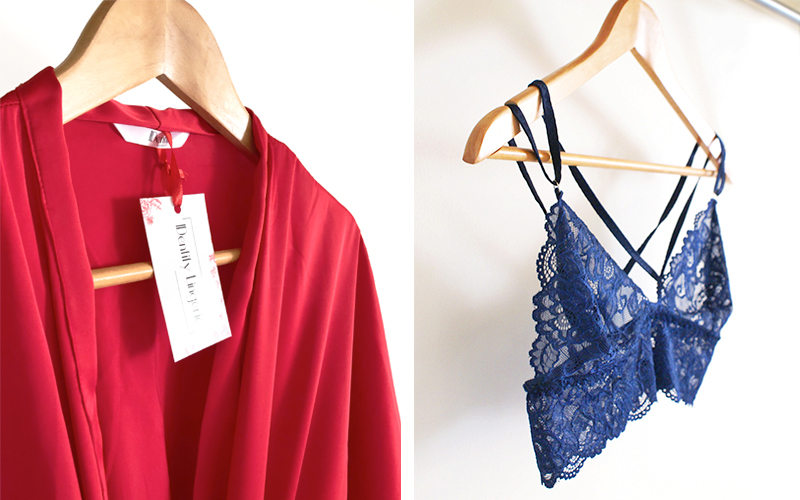 The quality is exceptional and they are so so soft and comfortable. Plus with the current sale prices they are an absolute steal. They'd make a perfect gift for a girlfriend/wife but also a perfect gift to yourself to boost body confidence. Can anyone not feel sexy in a pair of lace underwear and a silk robe‽
Did you struggle with postpartum body confidence? How did you overcome it or is it still a journey you're going on? DM me on Instagram and let's chat! @xxmissbirdyxx