I've never opted for a carrot cake, who chooses carrot over chocolate?! I can't say I'd ever tried one until either until I offered to make a cake for the birthday of a colleague. The moment he chose carrot cake, I admit I was a little daunted. How do they taste? What should it look like?
I hunted around for some recipes and some images of carrot cake ideas (thank god for Google and Pinterest) I managed to find a couple I liked the look of. I was instructed that no nuts were allowed as he is pretty allergic to them so any recipe I found would have to have the nuts eliminated.
So with my recipe in hand, and after a couple of days of mental preparation, I had my ingredients and I was ready to bake! I decided that I would not to go all out on the decorating front as I wanted to nail the flavours first.
Baking has always been a hobby, it's a way for me to get away from the computer away from screens and still be creative. I love to make people happy and excited over delightful food. I always remember my mum and grandma baking all the time. My mum trained as a Pattiseur at Bondolfi's in Eastbourne and was taught by well known cake maker Alex Bransgrove. I was brought up with her always baking for the family, Sunday evening was definitely the highlight of my week when she would serve up freshly baked cakes, sandwiches and nibbles in front of the fire. Rock cakes still have a special place in my heart.
I don't think I was ever taught or given lessons on how to bake but I guess years of watching my mum and gran in awe baking up these delights has instilled something in me.
Back to the carrot cake!
There's always a moment when you're mixing up your mixture you look into the bowl and question yourself as to 1) if all the ingredients are in there and 2) should it be *that* colour?!
I emptied the mixture into the cake tin and that was it, into the oven it went. The smell of cinnamon wafted through the house (much to the dislike of my partner) and I sat excitedly waiting hoping and praying the cake would be okay!
I mixed up the vanilla cream cheese frosting and dunked in my finger to taste… I surprised myself. It was the right amount of cream cheese and vanilla mixed with the sweetness and creaminess of the icing sugar and butter. Delicious! Big proud face!
Ingredients
---
[columns size="1/3″ last="false"]
Carrot Cake
300g soft light brown sugar (for this bake I used a mix of 200g light brown 100g dark brown)
3 eggs
300ml sunflower oil
300g plain flour
1tsp bicarbonate of soda
1tsp baking powder
1tsp ground cinnamon
1/2tsp ground ginger
1/2tsp salt
1/4tsp vanilla extract*
300g carrots, grated
[/columns]
[columns size="1/3″ last="false"]
Frosting
600g icing sugar, sifted
100g unsalted room temperature butter
250g cream cheese, cold
1 tsp vanilla extract*
*please use vanilla extract and not vanilla flavouring!
[/columns]
[columns size="1/3″ last="true"]
Equipment
1 x 8″ tin (deep) or 3 x 8″ tins (shallow) – lined with greaseproof paper
[/columns]

Method
Preheat the oven to 170ºC
Mix the sugar, eggs and oil together in a mixer making sure they are incorporated well.
Gradually add the flour, baking powder, bicarbonate of soda, cinnamon, ginger, salt and vanilla extract.
Stir in (by hand) the grated carrots until they are evenly distributed.
Pour the yummy carrot cake mixture into prepared tins, bake in the oven 170ºC for 20-25 minutes (for shallow tins) or 40 minutes (for a deep tin) or until a skewer comes out clean! I find timings vary from oven to oven so it's probably best to have a practice! Allow to cool on a wire rack.
Cream Cheese
Beat the icing sugar and butter in a stand mixer.
Add the cream cheese and vanilla extract (in one go) and beat until completely incorporated.
Continue beating on medium-high speed for about 5 mins taking care not to over beat as it can become runny quite quickly.
Assembly
When the cakes are cold, place one on a cake stand and spread about a quarter of the frosting over it.
Place the second tier on top and spread another quarter of frosting over it.
Top with the last cake. Spread the remaining frosting over the top and sides (optional). Finish decorating with a light sprinkling of cinnamon (again – optional) then slice and scoff! Enjoy!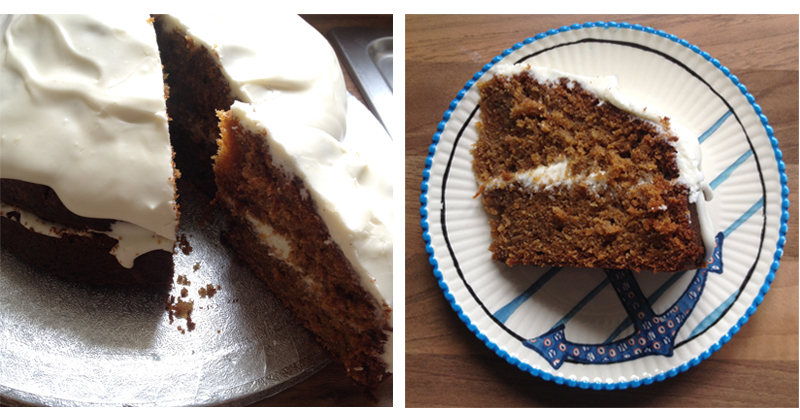 Have you tried this recipe? Do you have any tips or twists on carrot cake?

Tweet me @xxmissbirdyxx #CarrotCakeCrush