The Christmas countdown is on!
For the past few Christmases I'm all about quality over quantity of gifts. Receiving one really well thought out quality gift over 10 really cheap and naff gifts I'd forget about in 2 weeks time is so much better don't cha agree? Since having a little one my priorities have changed too; before him I would have lusted over all the blogger must haves and I definitely would have thought socks were a super naff gift, now? I'm all about having a warm cup of tea and the snuggliest socks for that moment of ahh! Is there anything more luxurious?
This post is a run down on all gifts for her; whether that's for your mum, the special lady in your life or you're looking for some inspiration on what to ask Father Christmas for! Grab a cup of hot chocolate and a blanket and read on for some inspiration! Don't be fooled by the term luxury either – luxury to me is an individual feeling or opinion, what is luxury for one might not be for someone else and I don't think luxury always comes with a super high price tag! ????
Jewellery
Necklace
I'm all about Rose Gold jewellery. After receiving my Nana's wedding band which is rose gold it made me want everything to match from my engagement ring, wedding and eternity bands to necklaces. I'm quite a particular jewellery wearer and had never really settled on a special necklace until I discovered Philippa Herbert. I took Baby M's fingerprint and she worked her magic onto a rose gold disc and I now have the most amazing piece of jewellery that I will treasure forever! This is the perfect gift from a baby to mama!
Watch
Watches have always been something I've loved but I have really tiny wrists I couldn't decide what I liked. I have a cute Daniel Wellington watch that I wear most days but it was never really special until I discovered Nordgreen. A Scandinavian company with the most gorgeous watches and interchangeable straps! I was sent this beautiful Rose Gold Infinity Mesh watch and I have to say it's my new favourite. If you follow my blog you'll know I love companies who have good values (Leesa, Third Living) and Nordgreen have a similar ethos. For each watch sold they empower their customers to give back to one of three causes.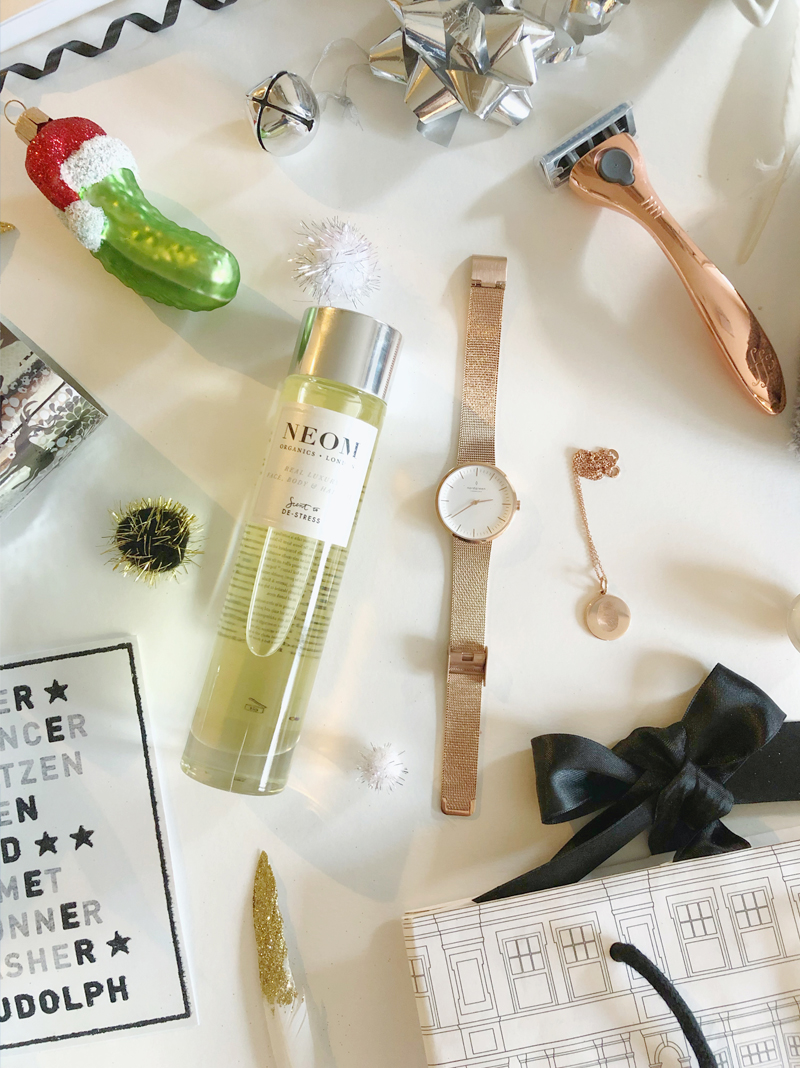 Wellbeing
My favourite wellbeing brand is Neom Organics. I absolutely LOVE their products and everyone I gift these to are delighted! I use the Lavender Sleep Mist (£20) every night for Baby M and during the day we have our Wellbeing Pod (£90) running. They have a selection of ranges and the Scent Test Kits (£5) allow you to discover which scent you feel most drawn to which is is your body signalling your underlying wellbeing need. I think Neom would definitely be one of my desert island must haves.
Comfort
Socks!
As I mentioned in the intro; socks would have bored me stiff before Baby M but now, I'm all up for comfort! I found these beautiful Arctic Fox socks at Fat Face for £10. They are *so* snuggly and warm and I just love them. If I got another 10 pairs of these I'd be a happy lady!
If you're feeling a bit more flash with your cash; I treated myself to a pair of these gorgeous grey Cashmere Bed Socks at £36 from The White Company last year which I can highly recommend for their super luxurious feel.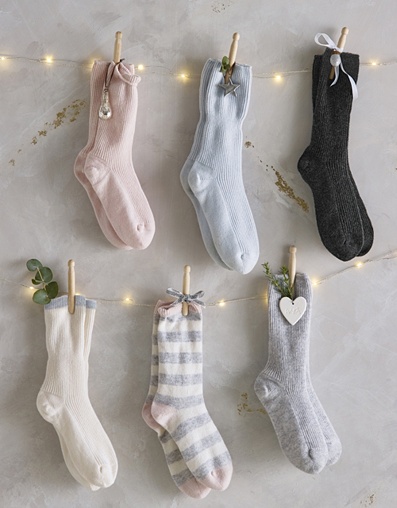 Homeware
I've been in love with all things Sophie Allport since I found one of her beautiful peg carriers in a small shop in Broadway! I'm obsessed with her bee collection and would love every single item! She has a vast range of designs including a beautiful Christmas range, it would make a perfect gift to anyone who loves homeware! I'm definitely lusting over this dinosaur range too!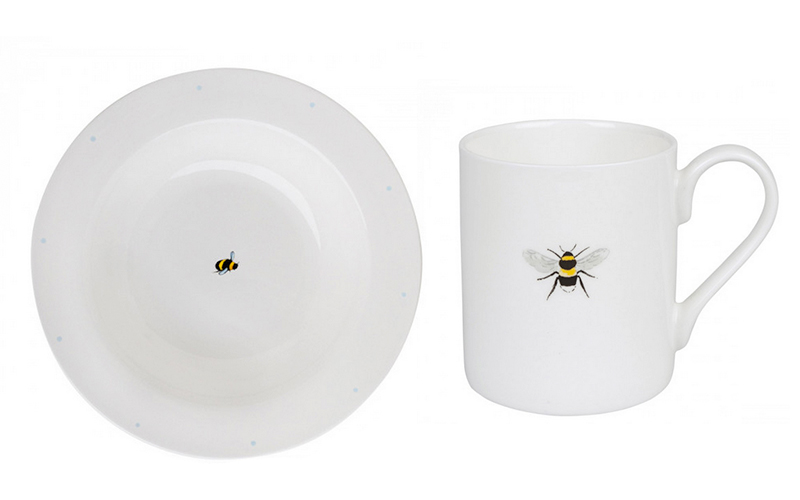 Decor
This is a tradition I have started this year for lots of friends and family and my little dude. It began with my mum when she started buying me a random bauble every year for Christmas! The pickle below can be found at Homesense for £2.99 – it's a German tradition that the first person to find the pickle on the tree Christmas morning gets an extra present! I always like buy a bauble for someone that is a bit out of the ordinary or one that will be a conversation starter so they remember it was from me.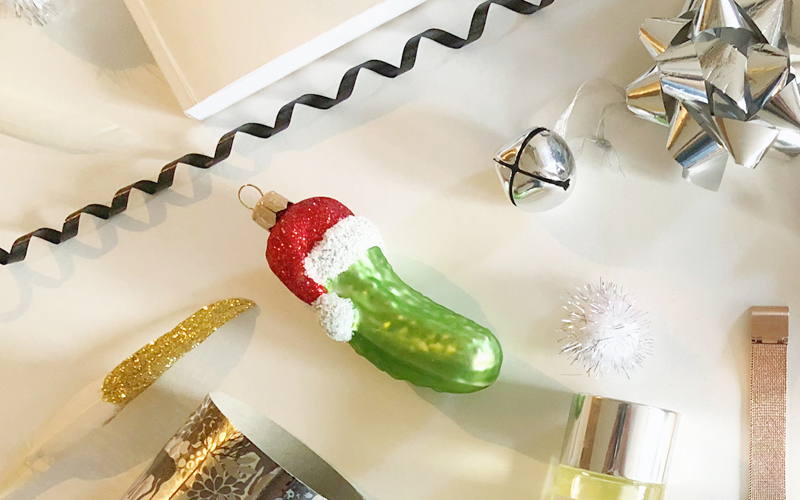 Beauty
Razors
What an odd thing to gift I hear you say! But hear me out! I've been an avid fan of Friction Free Shaving (FFS) since they launched a couple of years back. Needing to remember to get razor blades and cutting myself on old blades are now a thing of the past! This FFS gift box is the perfect present for the girl who has it all! The Christmas gift box includes the iconic metal women's razor – available in Rose or Silvia with personalised engraving, Pre-Shave Scrub, Shave Cream, Post-Shave Balm, four diamond-coated blades, a handy shower hook, travel pouch and a blade cover. Give the gift of smooth legs this Christmas!
Perfume
Perfume is a great gift for any girl. I always head to The Perfume Shop as they have great offers on and the prices are fantastic so you can smell luxurious for a fraction of the price. I've recently fallen in love with the Chloé collection and I adore the Hugo Boss collection too. My favourite is the Scent for Her which I wore while in hospital having Baby M. Any time I want to feel like I have super powers – I spray it on!
Stationery
Pens
Is your lady a writer? Caran d'Ache pens are my absolute favourites to gift people. They come in a range of colours, a funky tin box and have a nice weight to them! My favourite range is the metal 849 range which you can pick up on Amazon cheaper than the main website! Grab the Rose Gold one here for £20!
Notebook/Planner
I've been sworn off buying any more notebooks or planners because I have drawers filled with them! The one I use every day to make lists is this beautiful planner from The Old English Co.
The inner pages of this planner are perfect for using throughout the year as there is an area to add in a date. Each inner page of the planner is listed as a daily checklist and has a section for notes at the bottom. Works as a great organiser for your day to day plans.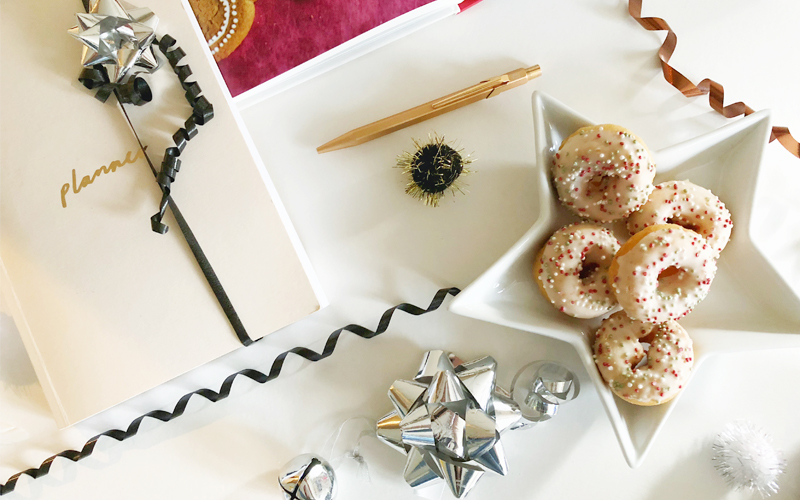 ---
Some links in this post are affiliate links. This means I may receive a small percentage of a sale if you click these links and purchase a product. This post contains items that have been sent to me for review.